Welcome to my crib: Small Bathroom
---
I know! I have been absent... we have been busy. My sister-in-law was here last week and i got to finally use my sewing machine, so i have a project to share with you, but it will have to wait a little while longer since i'm not finished yet (i'm still waiting for some fabric...). So i decided to just keep on with my never ending home tour.
Remember i told you we have two bathrooms? i know, it was ages ago, right...
Well the thing is, our other bathroom is very generic. It has not changed a bit since we moved in. It is not very pretty, but it is comfortable and functional.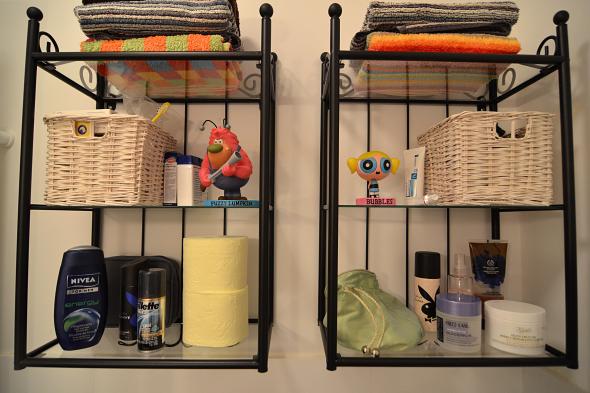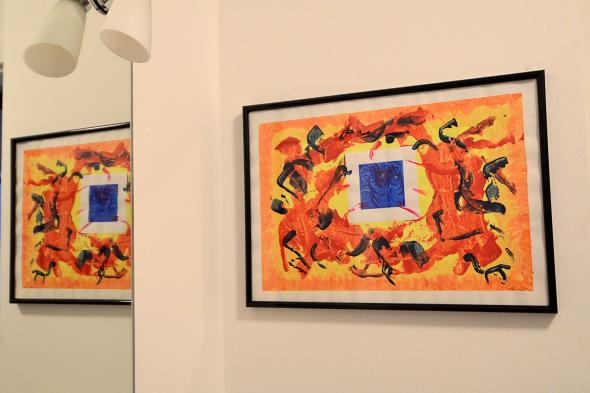 No, we have no kids! Yes, that Sponge Bob, Bubbles and Fuzzy Lumpkin are mine! Yes, i know i'm not 5 anymore, but i love them! And you can laugh at my "artwork", i did that painting for an art class at the university some years ago and i'm ashamed to say it's quite the best i can manage... well, my husband liked it and i needed something on that wall.
Don't worry, i've been meaning to change things here a little bit. I was thinking about paiting, but i'm still not sure about the color. Dark blue maybe? I know the room is small and we don't have a window in here, but i think i could make it work by keeping everything else white, which would mean spray painting the IKEA shelves.
All this ideas will have to wait though, we just finished the hallway and i'm happy to say the closet is done too (post yet to come)! But since i don't have to go to the university anymore and i'm currently not employed, i really want to take things slow and take my time on planing projects (and i cannot do everything at once, or i will find myself out of useful things to do...). 
Any bathroom makeover suggestions?