Welcome to my crib: Kitchen
---
I really have to apologize for the unintersting vibe going around here lately, but with work and yoga and lola i'm finding it really hard to schedule some writing time + i'm super tired! I do have some christmas proyects in mind, but like everything else, i have to find some time for it. 
On a short life update:
My muscles hurt! who thought yoga would be so strenous! but i'm happy and i feel good ;-) 
Work is fine. I have A LOT to do and that's ok, i like having something to do, but i cannot deny how tiring it is...
Lola has been really good this week! I think she also had to adjust to our new daily routine. We had an extra training hour on wednesday at dog school and got a lot of feedback and advice on how to work better with her.
Today i decided to finally move along with the crib series and i would like to present to you our unspectacular but highly technological, functional kitchen!
The pictures are a little bit old. As you can see there is actual sunlight outside... now, not really... buuuu winter!
We "designed" the kitchen ourselves. The fronts are a magnolia white and aubergine colored. The countertops and shelves are cherry tree wood. The main point was to get a lot of storage space, which i think we totally nailed with all the drawers and shelves.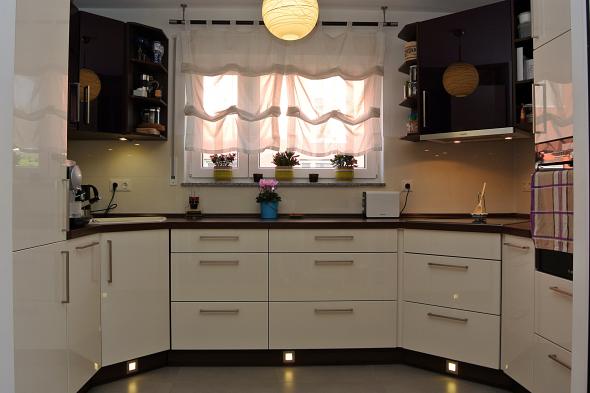 On the front left we integrated the fridge (top), freezer (bottom) and the dishwasher (to the right of the freezer) with the magnolia-white front. On the front right is the oven/microwave and under that we have a "plate warmer" which is pretty cool to have, but we almost never use. On the bottom left of that we have an apothecary cabinet. I love that thing, i wish it were bigger ;-)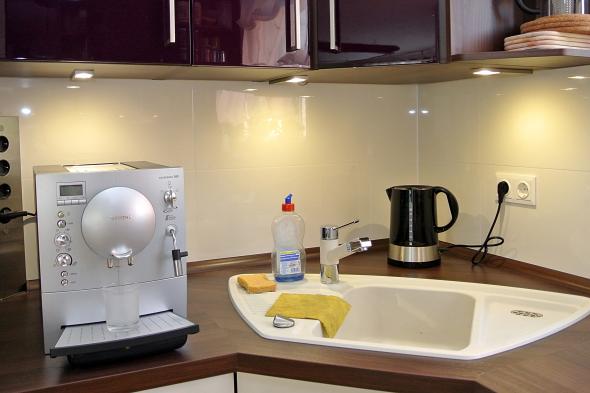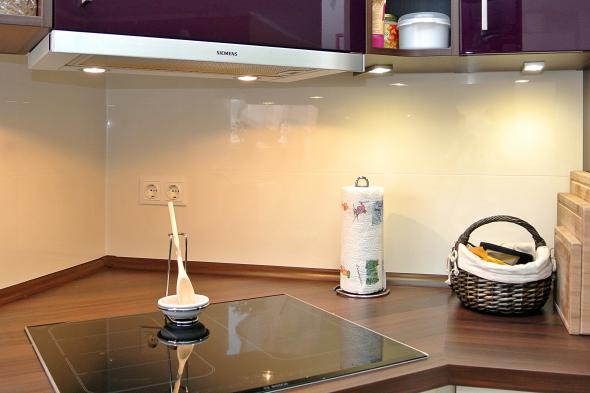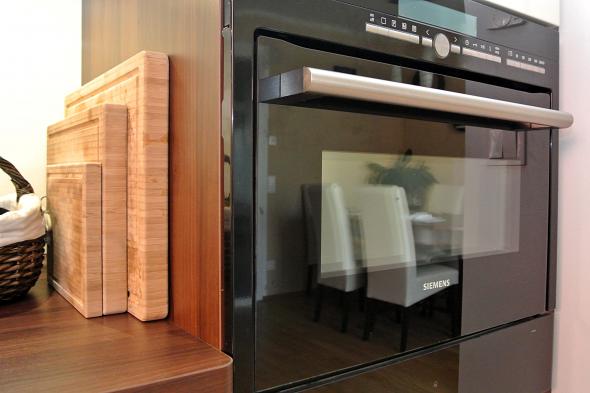 I wanted some succulents for the windowsill and got these from my father-in-law. He also bought the flower pots. I like how they match with the green of the living room, since we have an open kitchen it is a nice way to tie everything together, but they're not my favourite.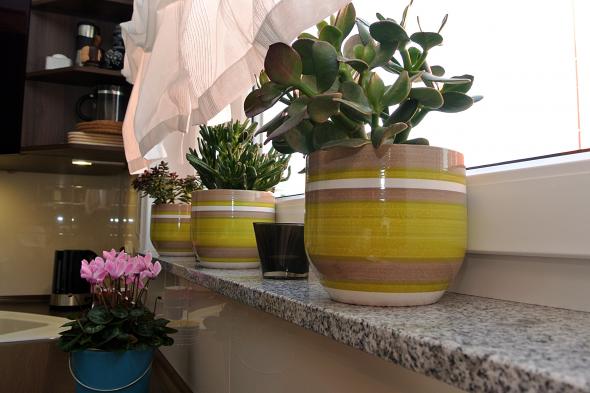 I actually would love to have something more like this rectangular glass vase. Maybe really long, so that all the succulents fit in?
I would also like some fake plants for the corner shelves on either side of the window. I don't like how everything gets so full of dust so easily and we still have space in the wall cabinets, so how about some more greenery on the outside, that does not actually need neither a lot of space, nor a lot of attention ;-)
I also liked that round glass vase, but i think the sill is not wide enough for it. It's nice anyway. I'll be keeping it in the back of my head.
We already bought like 10 of those glass spice containers, but who has just 10 different spices, right? i need more!!!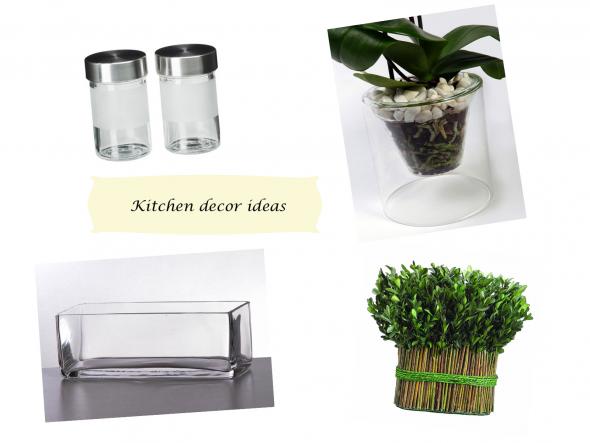 I'm not happy with the curtains either, so i'll be sewing new ones as soon as i get more comfortable working with the sewing machine. I don't really like the kitchen "entrance". We could have had an arch there, but didn't think of it at the time. Right now i have some cute branches hanging from the ceiling (well more like sticked to the sides...). Any ideas on how to make that entrance more "round"? Or at least not as ugly and unsatisfying?
So, the moral of this kitchen is: if your husband persuades you to get glossy fronts, then he is responsible for keeping them clean!