Welcome to my crib: Guest Room/Study
---
After what certainly seems ages ago, i'm finally showing you our guest room/library/study. When we were looking for an apartment we made sure it had a spare room, which we could later on turn into a nursery. Well, it's still not a nursery, but i already have sooo many ideas for it when the time comes.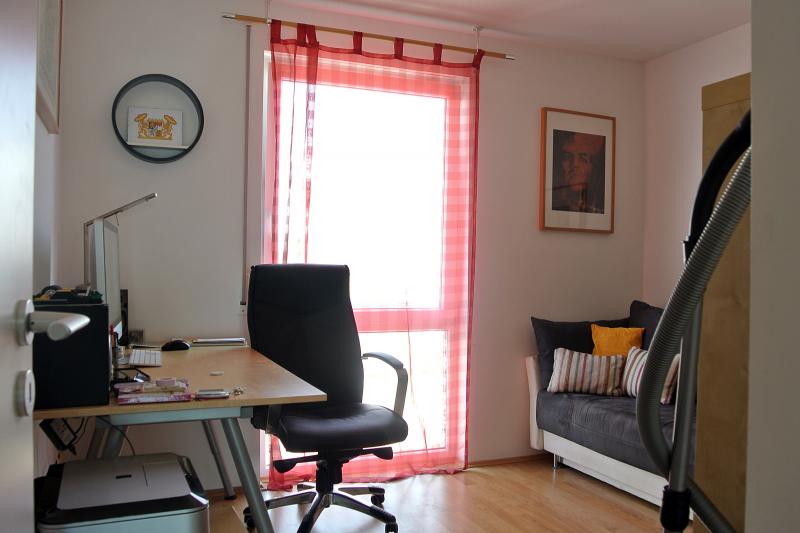 We bought this couch for our last apartment and it turns into a bed, so there's always a place to sleep at our our place ;-) It ist gladly used by friends and family, but most of the time it's just full with piles of clothes to be ironed, or jackets i'm too lazy to hang. The absence of the right armrest is totally intentional: it spares some space. Jack Nicholson is not hanging, because german walls are dumb and you don't just hammer a nail in it, you need a drill and we have one, but i don't want to make another hole in the wall just yet...
This is my working space... not quite inspiring right? I don't really mind. Besides this space stays this clean only for a couple of hours, after which it turns into my very own organized chaos ;-) 
And here you have our "library". I love books! I buy new ones constantly. Unfortunately IKEA's Expedit is not a very good option for storing books. It works if you can access them from both sides, but if not, then you have a lot of wasted space. Raul put some pieces of styrofoam in the back, so we have a back row that's a little bit higher than the front row and as you can guess i have to take the front row out first if i want to access the back one. It's not functional but we have more space for the time being.
Like i said, we're still not pregnant, but we would like to start on some changes soon anyway. First of all, we will have to get rid of the desk and get a much more smaller one, which will be placed at the "awkward, now empty, wall" in our bedroom. We will use that space to build top to bottom book shelves. I would love to do something with pipes like this, but i think Raul has other ideas. We still have to see, but we hope to gain much more space for all our books.
We could then get rid of the Expedit shelves and achieve a less crowded space. As long as we don't need a nursery, the couch will be staying there, so you have a place to rest your head while visiting us ;-)
And that was our super cool and amazingly we're-not-even-trying-to-make-it-work guest room/library/working space! Hope you like it anyway ;-)
x.o.