Why is it so hot in here?
---
This is a question i have been asking myself for the past 3 weeks, to which the hubs always replies: "It's not! It's probably your hormones..."
Oh yes, hormones... welcome to my own little hell. Even puberty knocked on my door again; it missed my face!
3 weeks ago i started taking hormones for the IVF treatment and i have to tell you, it's been a huge pain in the a**. I've been having hot flashes and all of a sudden i feel like 17 again with my face full of pimples. I've been surviving on toast, because i get super hungry, but that is the only thing that does not make me want to puke as soon as i smell it. Most of the time i feel like crying for any reason whatsoever...
Do you know what the weirdest part is? besides all those "problems" i've been feeling great! Does that even make sense? I'm just as happy as Pharrell Williams :-)
Another thing that makes me happy is the fact that all this hormon taking is practically over! Weeeeeeeee... i mean it's not completely over, but the worst part is already behind me. No i'm still not pregnant, well more like i still have to wait a little while to do a blood test and obviously i'm super nervous! I'm trying to be optimistic without getting my hopes too high. Statistically speaking, only 1 out of 3 women get pregnant and of course i'm hoping to be that one. 
Apart from that... well, not much ;-) I turned 31! I met family and friends and i have to say they know me too well, i got awesome books, spa day stuff, a yoga mat... my brother was also here! It was a nice weekend... we built a book shelf! it turned out quite cool, i'll be showing it to you in the next days (first i have to take decent pictures and clean).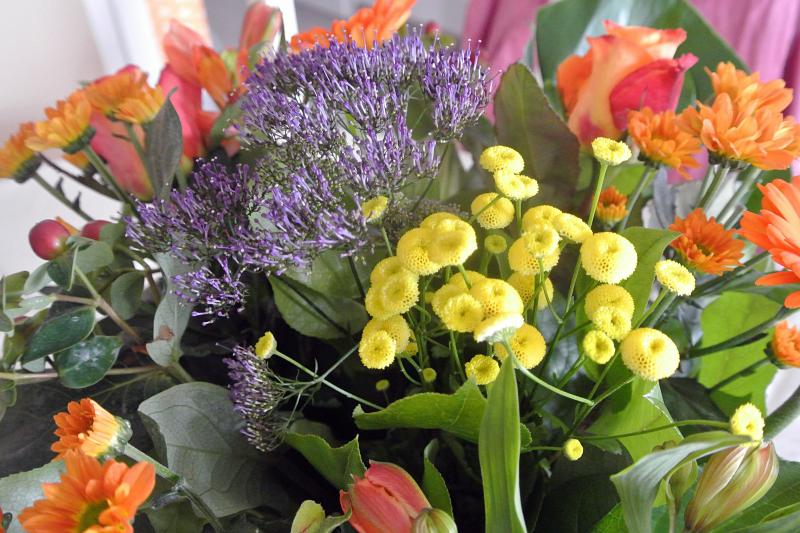 birthday flowers
birthday food
So, i will stop speaking now...
I wish you all a happy monday!
x.o.