New work space
---
Since we will be using the other room now for other than work and hording stuff, i decided i needed a new place where to work. Remember the very beginning of this room? There used to be a dresser here that we later used for the closet and since then there had been nothing on this wall, which was nice, but we had always planned to get a small secretaire. Well, here it is!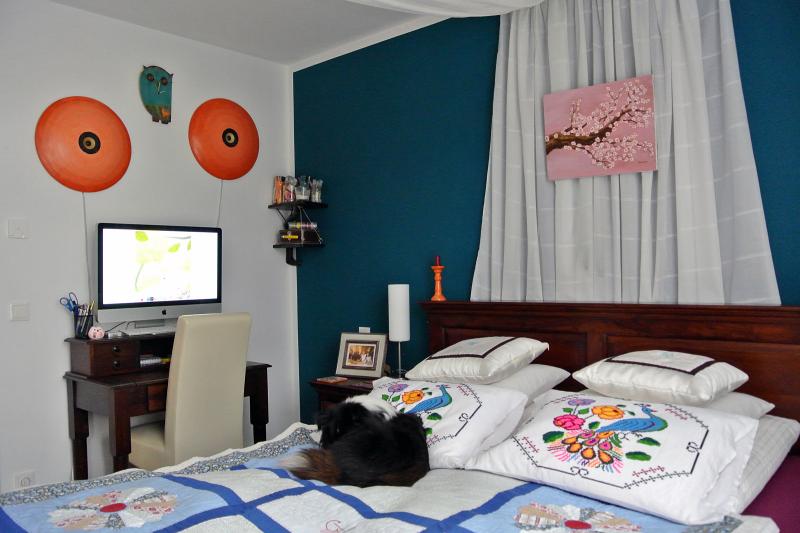 It is small enough that it fits in this tiny space, but it does expand so i can work properly on it. Of course i don't have a lot of space, but it's ok for working on the computer, writing... for everything else i have to use our dining room table, but it's ok, i really don't mind.
The chair is from the dining room, but i haven't found anything that i like that would work in here... i'll keep looking.
I had a problem with storage though. I needed a place where to put stuff, specially colors, washi tapes and everything i might need to make birthday cards. My husband built this shelves with small wooden panels and an actual tree branch (another benefit of living near a forest). We did paint everything so it would fit with the rest of the furniture. The upper part is on one side fixed to the branch with a screw and on the other it's supported to the branch with sticks. The bottom shelf is also fixed to the branch with a screw and the outer side holds with yarn and hooks. The branch itself is fixed to the wall with either one or two screws. Very simple, very pretty and very functional.
This weird round things are speakers... they were originaly kind of a dirty yellowish white, so i painted them orange! weeeeeeee more color! It actually fits perfect with our wall and the owl clock. I tried to make them ombré, but failed... whatever, they look cool anyway.
The cherry blossom paint also got a new place above the bed. We used nylon cord and hooks so it looks as if it was just hovering there.
I was afraid that the end result would look a little bit crowded, specially since the "pillow basket" is also in this corner, but as long as i keep it organized, it works really well. 
These are the last changes we're doing in this room. Well, next year there will be a small crib on my side of the bed, but it will obviously not be permanent.
I know i haven't showed you the book shelf and the other changes we have done in the other room, but i only have a week and a half 'till Mexico and i have sooo much to do! 
Have a nice wednesday!
x.o.