Welcome to my crib: Nursery
---
I've already shown you our super awesome not-pipe-but-it-still-looks-like-pipe-book shelf and what seems a very long time ago, there was a sneak peak of the walls. Well today i can finally show you the other side of the room, welcome to Miss little Moomin's Kingdom!
I wanted this room to be happy and bright and gender neutral, which is why i chose a bright sunny yellow color. The Hubs spend a whole day taping the walls and it took me a week to do all the painting. Could i have chosen a more time consuming project? Maybe, but then it would not look as awesome as it looks now, agree?! Of course you do, just look at those walls! We decided to keep the couch/bed, since the baby is not sleeping in this room and of course because of it's practicality as a guest bed.
The rest of the furnishings are mostly from IKEA. We chose the SUNDVIK range, because you can turn the changing table into a dresser, when the baby is older. The ÖNSKLIG container set is not the nicest, but its practical and i just "poshed it up" with some cute washi tape. Underneath the table we have the PYSSLINGAR boxes, a long and two smaller ones. The long one holds a whole pack of diapers. Above the wardrobe we have 2 SVIRA boxes, one for clothes that don't fit yet and the other with clothes that don't fit anymore. The Hubs built two lamps from a folding-screen, but the other one is currently in the basement (the couch is too long). He also built a third lamp for the ceiling, but i forgot to take a picture... :-/
Have you seen The Book of Life? No? Well go and watch it and then you'll understand where we got the Catrina (well, more like why. Where? In Mexico, but i think you can get it online too). Remember when we went to Japan? I bought that little mobile in Kyoto for when we had a baby (always plan ahead!).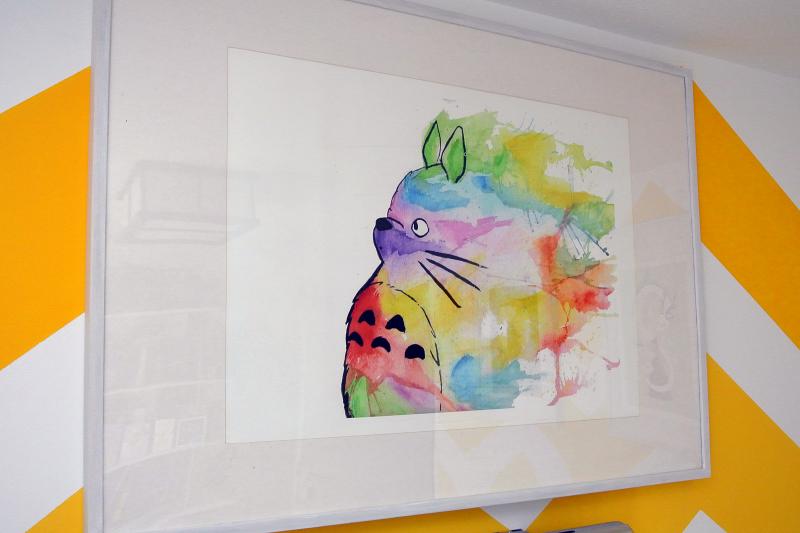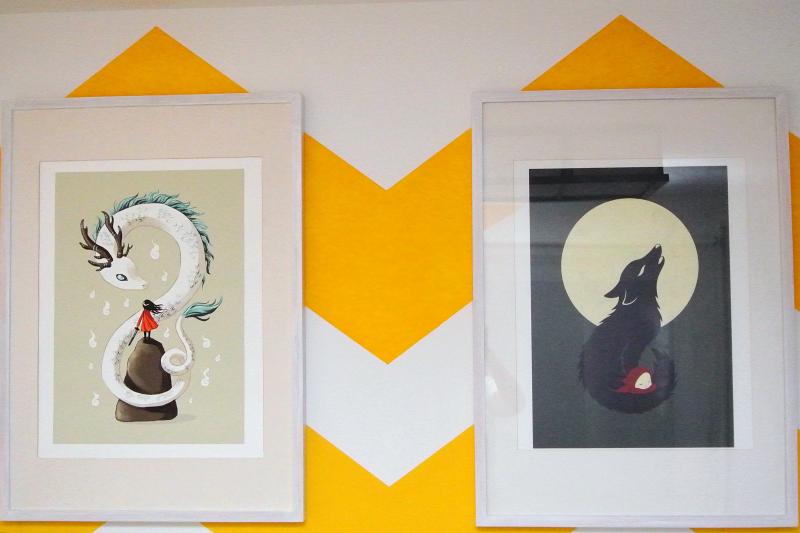 I am a HUGE fan of Ghibli, specially of My neighbor Totoro. We found this cool online store, where you can find tons of art! I knew i wanted that Totoro print ever since i first saw it. I wanted more Ghibli prints for the other wall, but we did not find anything that would fit. The one on the left reminds me a little bit of Spirited Away though and the one on the right is just another print we liked from the same artist. It's fun, because we had some comments about the Red Riding Hood one being too "dark" (not just because of the color) for a baby's room, but the little Moomin just started to spot them and she smiles! every time! :-D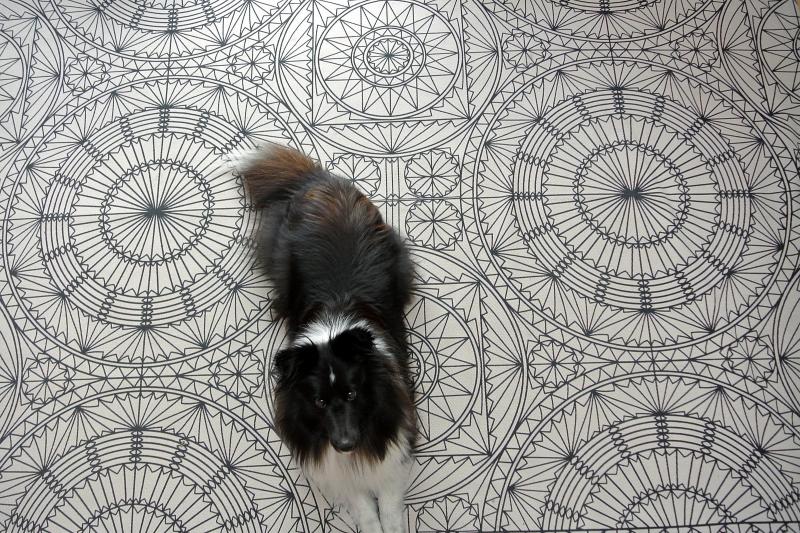 Finally, the rug we chose is also from IKEA. I cannot find it on the web site anymore, but i think is pretty much the predecessor of this one. I love the pattern! and even though it seems like much, it does fit perfectly in there. And that's it! I love her room! I really spent a LOT of time putting it together.
On other news: we're leaving for Helsinki, Finland next wednesday! weeeeeeeeee! Although, i'm a little bit nervous of flying with a baby for the fisrt time! Do you have some advice? I know i'm supposed to give her something to drink during take-off and landing, because of the pressure change and i'm hoping she stays calm during the flight. It's only 2 and a half hours after all. Well, on that note, look forward to cool pictures!
x.o.