Month 9
---
Baby Moomin has officialy been outside of the womb longer than inside, weeeeeeeeee!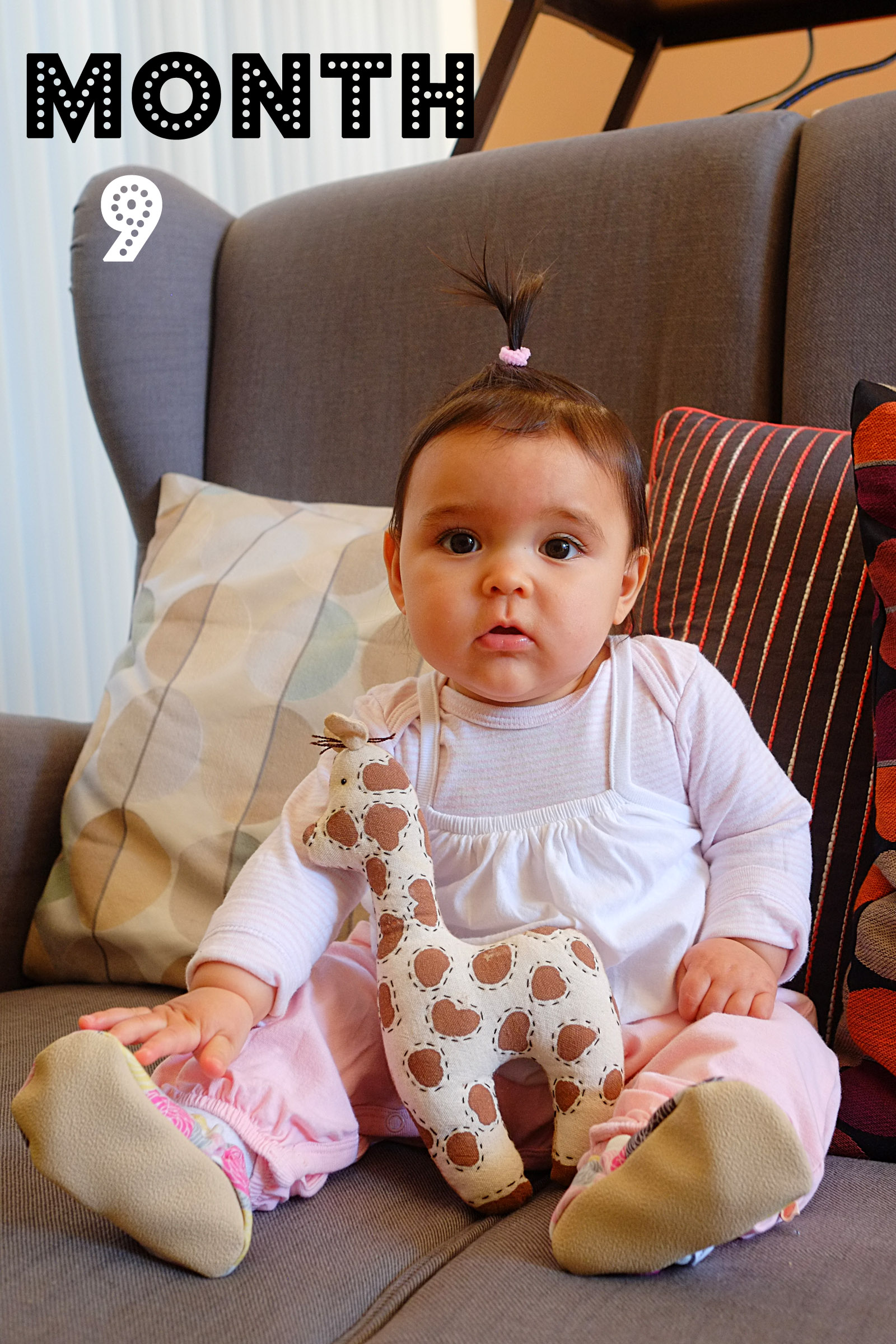 This month has been full of ups and downs. I don't know what's wrong with this child... First of all: teeth!!! yei! she got her two bottom teeth at the same time. They are still growing, but they're finally there! 
I've been trying to change her nap times a little bit, so we can do a little bit of co-sleeping during the day. It is working ok, i guess. She started waking up at 6 in the morning, sometimes before that, but i don't think it's because of the schedule change. She is not sleeping more than 3 hours during the day, so she's getting the same amount of sleep as before. I think it has more to do with food. I think it's time to increase the amount of food. I thought she ate a lot, but now i'm starting to feel a little bit uncertain. We just found a pediatrician and have a check up scheduled for next week, which is awesome because i don't even know how much she weights :-/
She's also starting to be more mobile! She's still not crawling, but she just wiggles herself around the house in a sitting position. I actually thought she might start crawling some weeks ago, because she would try to get on all fours, or a kind of launching position while seated, but so far... nothing... she doesn't even like to be on her stomach right now. We got her a play pen, well more like two, so she has enough space to play and move around, but she's doesn't like it very much :-/ We have to work on it... We started going to Play- & Storytime at the public library and so far it's fun. Baby Moomin is more at ease with other people and kids, but now we have to work on boundaries and sharing and not taking toys from other kids... the usual parenting.
I guess that was it. It has been a very uneventful time. Welcome to parenthood, where the height of the day is when the baby is taking a nap and you can finally get some alone time in the bathroom, or when your friday night consists of Netflix and beer, but just until 10 because the baby is going to wake up early the next day... :-/
Well, enjoy your friday! if you don't have kids: go out! dance all night and drink until you puke ;-P
x.o.
Month 1 • Month 2 • Month 3 • Month 4 • Month 5 • Month 7 • Month 8