Family Roadtrip Pt 1
---
So, after almost half a year I finally managed to set up the first part of our family roadtrip... Wow, that took really way too long. If you follow me on Instagram you know that i try to do this year's birthday cards while my kid sleeps. Well that's also the same time i would normally work on the blog :-/ I'm trying to split my time into all the things i want to do and it's not that easy... most of the time i just want to sit down and watch some TV. I haven't read anything new in ages! My book is still sitting there, reproachingly waiting for me to finally open it :-( 
Ok, let's just start with our Road Trip. Raul's parents arrived here a couple of days before, in order for them to rest a little, spend time with Baby Moomin and try to get rid of the jet lag. I'll write down our trip day by day, with a few comments of what we saw and as long as i can still find them, links to where we stayed...
Day 1: Yosemite. We had already been there with Raul's sister but since we took Lola with us this time, we knew we would not be able to get into the bigger hiking areas (no complaining from my part there). Overnight Stay: Yosemite Plaisance Bed & Breakfast in Mariposa (super welcoming hosts and the best breakfast ever!).
Day 2: We drove through Yosemite stopping at Saddlebag Lake (we saw an actual bald eagle AND a wolf!) and Mono Lake (the south Tufa area). Overnight Stay: June Lake Villager (nice, clean, big cabin).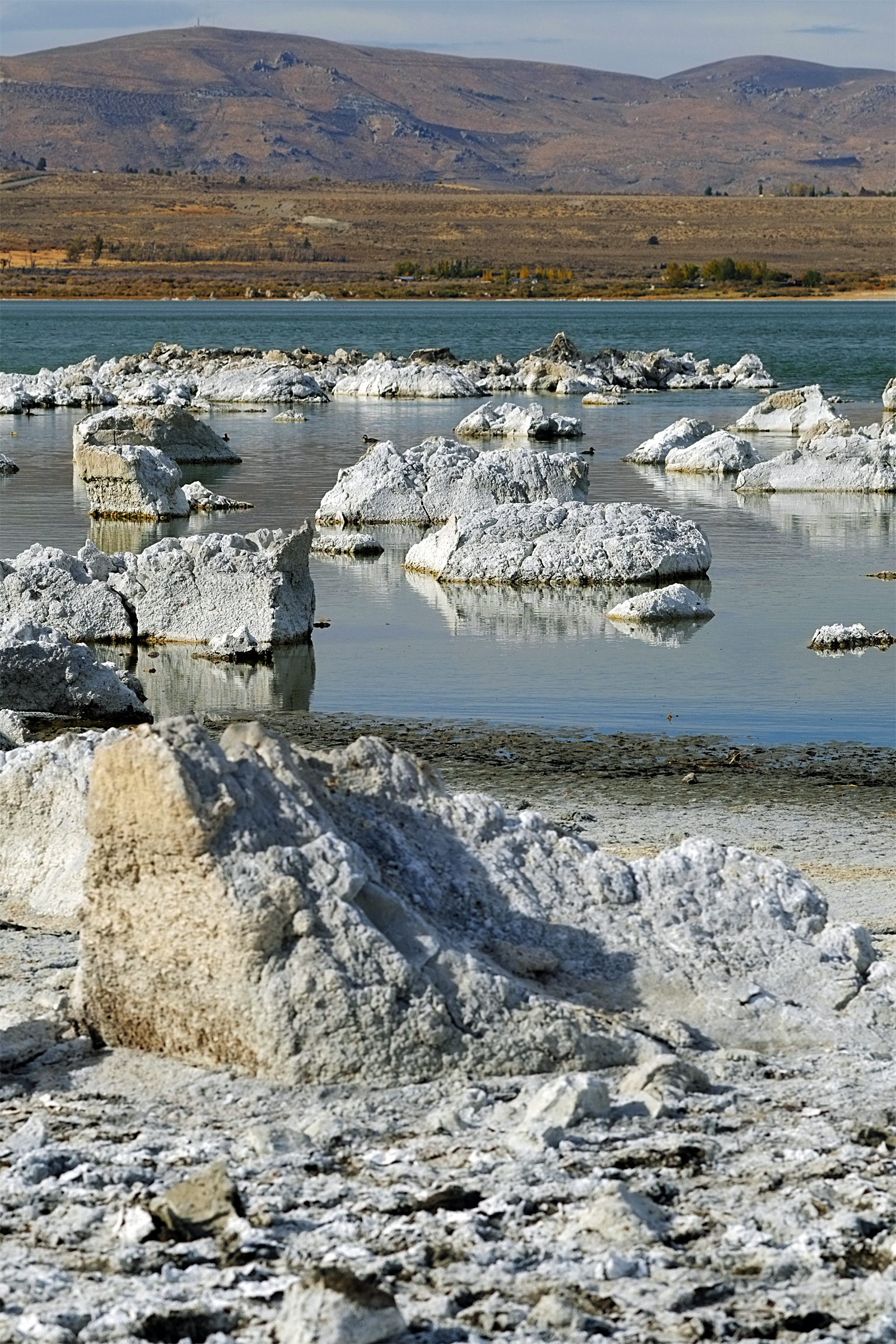 Day 3: We visited the Obsidian Dome (i felt as if on another planet), the Devil's Postpile, Horse Shoe Lake (nothing special, but it's dog friendly) and spent the night in the middle of nowhere in Inyo County (no Internet and only enough electricity for a couple of lamps and to charge our phones. Best night sleep ever! I can't find the internet link though, i just know it's a private cabin and the owners live on the other side of a little creek...).
Day 4: We drove through Death Valley, stopping only at a couple of intersting places like Badwater and Zabriskie Point because we sill had to reach Las Vegas, where we stayed out late (even Baby Moomin didn't go to bed until 11p.m.) watching the Bellagio Fountain and the lights on the Strip. Overnight Stay: The LINQ (Super modern, nice hotel. I think this was the only time we actually had separate rooms).
Day 5: This was for me, one of the most amazing places we visited: Valley of Fire. It was still sooo hot (remember it was already october), we just made a short 1 hour hike and that was enough. Be very careful when visiting here, always bring enough water, sunscreen and cover your head! I don't know why, but i found it extremely  beautiful! Overnight Stay: The Lazy Ass Ranch in Panguitch (the owner is this super nice, laid-back guy and the room is spacious and clean).
Day 6: Once again it got a little bit colder at Bryce Canyon, which suited us just fine. Willis Creek is another spot that i really enjoyed, we got all muddy and wet, but it's just so pretty down there that it really didn't matter. The little road to the next city however, was really tough and we had some stressful moments driving through it. Overnight Stay: Canyons Lodge in Kanab. This was the most dissapointing hotel we had. The room was way too small, super busy road was just outside our window and everything was sooo loud: the little fridge, the A/C, the ventilation in the bathroom... The description says "Family Room" (that's why we took it), but honestly we had Motel rooms that were bigger and cleaner.
Day 7: After an unresful night we ventured into the North Rim of the Grand Canyon. This side of the rim is super nice and not so overrun with people. there are still many tourists, but not as many as on the south rim. There are many viewing points that you can reach by car and it's just impressive. It is a really long trip from south to north rim, but it's really worth the trip.
And that was the first week of our road trip :-) I hope i can get the second part finished by next week (like i said: hopefully!) Until then, have a nice week!
x.o.