T.G.I.F. #9
---
We went to the movies yesterday. We watched Pacific Rim.
I've always been a huge Guillermo del Toro fan. Cronos was really good. I loved The Devil's Backbone and adored Pan's Labyrinth! I even liked Hellboy ;-) 
I also love Neon Genesis Evangelion, so i was really looking forward to this movie, but... well it was kind of disappointing :-( The story is not a disaster, but it's not good either. The dialogs were awful! There were some fun moments, but mostly cheap jokes. Rinko Kikuchi's character got sooo much on my nerves, Idris Elba's final speech reminded me of Independence Day (and i actually like that movie...), the music was bad and it was way too long... On the other side: the special effects are very good, i bet they look awesome in 3D. Ron Perlman and Charlie Day were an awesome casting choice, they are hilarious ;-)
Well, if you know Guillermo del Toro movies and thought this one was going to be like NGE: don't watch it! 
If you have nothing else to do tonight, want to be entertained, like a lot of action and loud bass noises and have no expectations towards this movie: go for it!
Pacific Rim (2013) - Official Trailers [HD] von f100002532815123
That's why this friday i will be staying at home, watching a telenovela (brain activity level is the same as with the movie above ;-P) and eating this Mexican Popcorn (but as a real mexican i use more lemon juice and of course chilli).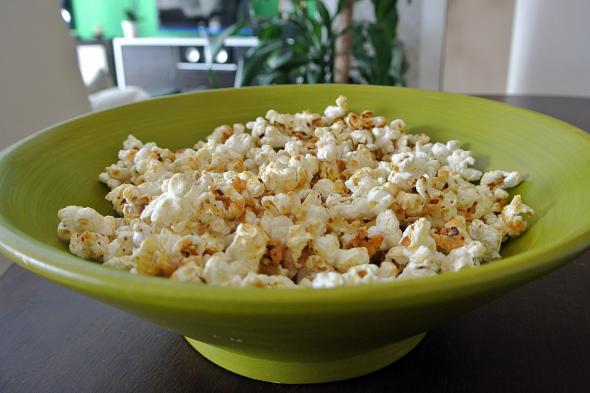 I wish you all a happy friday and a relaxing weekend!
xo