Hi, i'm Bere, i was born and raised in Mexico City, but decided to go to university in Germany. There i met my now husband, we bought an apartment, got a dog and brought a child into the world. As fate may have it, my husband was relocated to Sacramento, California and not so long ago we made the decision to make this place our permanent home.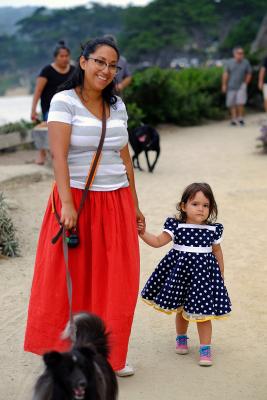 Some facts about me: 
No I'm not a writer, but i've found that sharing my thoughts helps me cope with life and connect with others.
I'm also not a photographer, but my husband takes really nice pictures and he lets me use them :-D #theperksofmarriage
My cooking is terrible (although i'm a passable baker), but i love to eat and you can count on me to tell you where the good food is at ;-)
As you can see from my picture I have zero sense of fashion
I watch more TV and movies than the average person
The Blog:
I started this blog in 2013 as a way to keep our friends and family informed about our lives. Here i share a lot of pictures of our travels, our family and our home. Life itself is so versatile, that's why i try to share with you serious issues like our struggle with infertility and my daily attempt at motherhood while dealing with anxiety and depression, as well as a lot of (wanna be) interior design, some DIY proyects and movie & TV shows reviews.